COOEE alpin Hotel Bad Kleinkirchheim
COOEE alpin Hotel Bad Kleinkirchheim
Hungerbergstraße 20, 1190 Bad Kleinkirchheim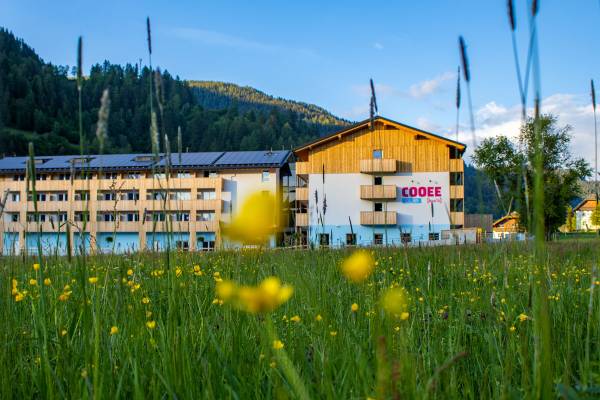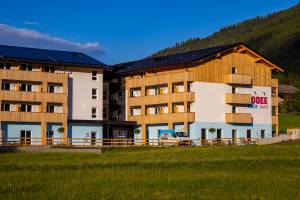 Highlights
right next to the Kaiserburg cable car & the Römerbad thermal bath
COOEE alpine relaxation area with saunas and fitness room
Facilities
sauna
restaurant
fitness
Wi-Fi
Location
Altitude: 1.087m
GPS coordinates: latitude: 46.812981 | Longitude: 13.802126
Train station: Spittal / 35km
Bathing beach: Lake Millstatt/20km

The hotel is only a few steps away from the Kaiserburgbahn, the direct access to the skiing and hiking paradise of Bad Kleinkirchheim and is the ideal starting point for challenging mountain tours in alpine terrain or a leisurely hike across blooming and fragrant meadows. Anyone who likes to travel by bike or racing bike will find a large network of bike and cycle paths around Bad Kleinkirchheim.
The COOEE alpin Hotel is in the pole position for mountaineers - right next to the longest Flow Country Trail in Europe with a length of 15.9 kilometers. The UNESCO biosphere park is very close by, a natural paradise for outdoor sports enthusiasts, families and nature lovers. Right in the heart of the gentle Carinthian Nockberge in Austria, marmots can be observed, the little wooded, green, well-protected and well-kept natural and cultural landscape holds many a natural surprise for the curious. If you are looking for relaxation after an action-packed day in nature, you can relax in the Römerbad thermal baths, which are only 20m from the hotel, with indoor and outdoor thermal pools.
Facilities
The sports hotel for active people in the modern 3* standard awaits you with a friendly lobby area with reception, a bar, a buffet restaurant with a sun terrace, a lockable bicycle room, a charging station for e-cars and e-bikes (for a fee), free parking spaces and a lift . Lots of wood and cozy colors create a pleasant atmosphere for your stay. Free WiFi is available in all areas.
Payable on site: dog on request: EUR 10,- per night. Cot EUR 5,- per night. Local tax EUR 2.60 per person/night and Sunshine Card EUR 1,- per person/night from the age of 17.
Rooms
The 99 cozy and at the same time functionally furnished rooms in alpine style have a bathroom with rain shower, separate toilet, hair dryer, radio, flat screen cable TV, WiFi and balcony.
DS (2-2): Double room, 21-24m².
DK (2-3): Double room with extra bed, 21-24m².
DR (4-4): Family double room consisting of 2 double rooms with a connecting door.
DX (1-1): Double room for single use.
Meals
Rich breakfast buffet with products from the region, which leaves nothing to be desired.
When booking half-board, a 3-course menu from the buffet in the evening with starters such as fresh salads and soups, various main courses (meat and vegetarian) with regional delicacies and several sweet desserts.
The dishes are freshly prepared and of course change daily. Dishes for allergy sufferers are also available on request.
Additional Costs
Obligatory surcharges on site: local tax EUR 2,60 ppn and Sunshine Card EUR 1,- per person/night (from 17 years).
Wellness
The in-house relaxation area has a Finnish sauna, bio sauna, spacious relaxation room and a fitness room.
Children
Children's playroom, small children's outdoor playground with slide, small climbing wall and spring seesaw.
Extras
10% early bird discount for bookings made by 30.4.*)
Stay '7, pay' 6 nights from 25.4.-26.5. & 15.10.-4.11.*)
Stay '14, pay' 11 nights from 25.4.-26.5. & 15.10.-4.11.*)
COOEE alpin welcome check-in drink voucher
1 bottle of water daily in the room

*) can not be combined


The displayed informationis valid from 25.4. - 1.12.2023




Check availability now
Show summer pricing table
Show winter pricing table
Price table COOEE alpin Hotel Bad Kleinkirchheim
Price in EURO per person/night
2023
 
 
 
Code:
KABKCO1
Min: 25.4.–30.6. & 31.8.–30.11. 2 nights,
1.7.–30.8. 3 nights
Meals
Occupancy
25.4.–26.5.
15.10.–30.11.
27.5.–30.6.
31.8.–14.10.
1.7.–30.8.
DS B
DBL
BF
2–2
51
56
63
DK B
DBL with extra bed
BF
2–3
51
56
63
DZ B
FamDBL CON
BF
4–4*
61
68
76
DX B
DBL single use
BF
1–1
58
65
73
DG B
DBL Single/child
BF
2–2
58
65
73
 
extra bed 6–15 years in the DBL & DBL Single/child
BF
 
25
28
31
 
extra bed 16–17 years in the DBL & DBL Single/child
BF
 
40
45
50
 
extra bed 18–99 years in the DBL
BF
 
43
47
53
 
extra bed 2–5 years in the FamDBL CON
BF
 
16
17
18
 
extra bed 6–15 years in the FamDBL CON
BF
 
26
29
32
 
extra bed 16–17 years in the FamDBL CON
BF
 
41
46
51
 
extra bed 18–99 years in the FamDBL CON
BF
 
44
49
54
Reduction/price in case of 2 full-paying guests in the extra bed:
0–5 years 100% and in the FamDBL CON: 0–1 year 100%,  6–99 years and 2–99 years see price chart;
* max. 3 adults + 1 child up to 17 years
Supplement:
half-board: EUR 21,–, children 6–15 years EUR 11,– ppn
Payable on spot:
local tax (from 17 years) EUR 2,60 ppn; Sunshine Card (from 17 years) EUR 1,– ppn; cot EUR 5,– pn
Price table COOEE alpin Hotel Bad Kleinkirchheim
Price in EURO per person/night
2023/24
 
 
 
 
Code:
KABKCO1
Min: 1.12.–23.12., 6.1.–18.1., 21.1.–31.1. & 3.3.–25.4. 2 nights,
24.12.–5.1., 19.1.–20.1. & 1.2.–2.3. 7 nights (no arrival/departure on 31.12.)
Meals
Occupancy
1.12.–23.12.
10.3.–27.3.
2.4.–25.4.
24.12.–5.1.
6.1.–18.1.
21.1.–31.1.
3.3.–9.3.
28.3.–1.4.
19.1.–20.1.
1.2.–2.3.
DS B
DBL
BF
2–2
50
87
62
82
DV B
DBLwith bunk bed
BF
2–3
50
87
62
82
DBL B
FamDBL CON
BF
4–5*
60
105
74
98
DX B
DBL single use
BF
1–1
70
122
86
114
DG B
DBL single/child
BF
2–2
70
122
86
114
 
extra bed 6–15 years in the DBL with extra bed & DBL single/child
 
 
25
44
31
41
 
extra bed 16–17 years in the DBL with extra bed & DBL single/child
 
 
40
70
49
65
 
extra bed 18–99 years in the DBL with extra bed
 
 
45
79
55
74
 
extra bed 2–5 years in the FamDBL CON
 
 
14
29
16
27
 
extra bed 6–15 years in the FamDBL CON
 
 
30
52
37
49
 
extra bed 16–17 years in the FamDBL CON
 
 
41
71
51
67
 
extra bed 18–99 years in the FamDBL CON
 
 
46
80
57
75
Reduction in case of 2 full-paying guests in the extra bed.:
0-5 years 100% or in FamDBL CON: 0-1 year 100%, 6-99 years or 2-99 years see price table;
discount with 1 full-paying guest in the DG: 0-5 years 100%, 6-17 years see price table; * min. 3 adults + 1 child or max. 3 adults + 2 children up to 17 years
Supplement:
half-board: EUR 22,-, children 6–15 years EUR 11,- ppn; Christmas menu (obligatory) on 24.12. + 25.12.: EUR 34,- each, children 6–15 years EUR 17,- each;
New Year's Eve menu (obligatory) on 31.12.: EUR 60,-, children 6–15 years EUR 30,-, no supplement for children up to 5 years
Payable on spot:
local tax (from 17 years) EUR 3,70 ppn; cot EUR 5,– pn