Falkensteiner Hotel Schladming **** Superior
★★★★
Falkensteiner Hotel Schladming **** Superior
Europaplatz 613, 8970 Schladming
295 ratings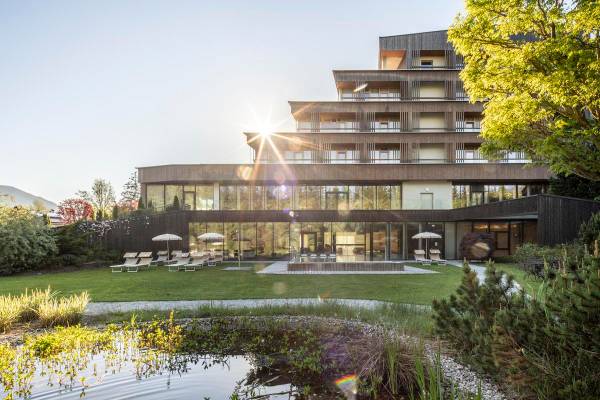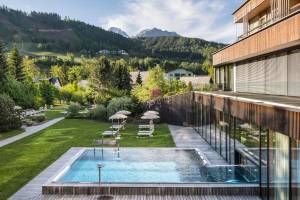 Highlights
SPORT.SPA.STYLE.
modern architecture combined with Alpine lifestyle
Acquapura SPA on 1.500m²
Falkensteiner cuisine with Styrian touch
Schladming Dachstein Summer Card included
Facilities
sauna
restaurant
parking spot
indoor pool
outdoor pool
fitness
accessible
seminar room
Wi-Fi
pets welcome
Categories
Spa
Skiing
Cross-country skiing
Snowshoeing
Ski tour
Hiking
Seminar
Holiday hotels
Glacier
Location
Altitude: 750m
GPS coordinates: latitude: 47.396717/longitude: 13.695804
Highway: A10/Radstadt/20km
Train station: Schladming/1,4km 

In a quiet, sunny location on the outskirts of Schladming and only a few steps away from the town center and the Planai cable car, the Falkensteiner Hotel Schladming is the ideal starting point for your hiking and mountain bike tours in the beautiful mountains.
Over 1,000 km of marked routes are waiting for you. There are 45 signposted routes for runners and Nordic walkers. Due to the immediate proximity to the TOP golf courses in the region, the hotel is also a true paradise for golfers. A 7km long summer toboggan run, the Dachstein Sky Walk and the Dachstein Ice Palace round off the extensive program.
Facilities
A fascinating architectural mix of urban and alpine lifestyle creates an inimitable atmosphere. The impressive entrance is staged by a central atrium that allows an impressive view of the mountain silhouette.
The open fireplace spreads a cozy atmosphere in the stylish "genießBAR" with reading corner and cigar lounge. The hotel restaurant "Steirer" with the "Kitchen parlor" and large terrace impresses with its Styrian-inspired Falkensteiner cuisine accompanied by excellent wines. Generous, light-flooded conference rooms with modern technology and air conditioning offer the perfect environment for your event. Elevator and free parking spaces at the house. You can use Wi-Fi in the whole hotel for free.
Payable on site: dog EUR 25,- per night. Local tax EUR 2.50 per person/night from 16 years.
Rooms
The unique architectural charm of the hotel is particularly reflected in the rooms: from the naturally aged vintage wood look to the edelweiss decor on the upholstery and ceilings. The 130 modern-alpine rooms have a shower/toilet, hair dryer, pool bag with rental bathrobe and slippers, telephone, satellite TV, safe, minibar, Nespresso machine including capsules, WiFi and balcony or terrace.
DU (2-2): Superior double room, approx. 27m²
DD (2-3): Double room deluxe, approx. 32m².
JS (2-4): Junior Suite, approx. 40m², separate living and sleeping areas, bathroom with bathtub.
DX (1-1): Deluxe double room for single use.
Meals
Half-board: rich breakfast buffet, in the evening 5-course menu with choice or themed buffet - Alpe Adria cuisine with Styrian inspiration. Gluten and lactose-free products on request and by prior arrangement.
Activities
For a fee: rental of e-bikes and Segways, guided hikes, rental fee for various sports equipment, rafting, kayaking, canyoning, high rope climbing garden and much more. m. from local providers.
Golf
The 4 golf courses of the Schladming-Dachstein Golfsafari impress with their location in the middle of the Ennstal mountains. The very different design provides variety and makes exploring the 4 golf courses a unique experience. As a guest of the Falkensteiner Hotel Schladming, you benefit from reduced green fees as well as discounts on coaching sessions and intensive courses. Dogs are also allowed at the Golf & Country Club Dachstein Tauern.
Additional Costs
Obligatory supplement payable on spot: local tax (from 16 years) EUR 2,50 per person/night.
Wellness
Acquapura SPA wellness world on 1,500m² with indoor and outdoor pool, indoor sauna area with a selection of themed saunas, outdoor sauna area with privacy screen with plunge pool, panorama fitness and gymnastics room and various relaxation rooms with mountain hay loungers and water beds as well as direct access to the sun terrace with loungers.
For a fee: classic and special massages, cosmetics, baths and packs, private SPA suites for two.
Extras
15% early bird bonus for 3-4 nights and booking by 15.2. (cannot be cancelled/rebooked)
20% early bird bonus from 5 nights and booking by 15.2. (cannot be cancelled/rebooked)
10% reduction from 5 nights for bookings from 16.2.
welcome drink on arrival
1 bottle of mineral water in the room
20% Greenfee reduction on the 4 golf courses of the Golfsafari Schladming-Dachstein 
Schladming Dachstein Summer Card included from 21.5.-1.11. with
daily one free ascent and descent at open mountain railways in the region
1 x weekly free ascent and descent with the Dachstein glacier cable car (from 2 nights)
free admission to swimming pools, lakes and outdoor pools in the region
free use of local hiking and service buses and toll roads
free participation in the children's and family program
free participation in hiking and nature experiences
free entrance at numerous cultural institutions and museums
up to 50% discounts at more than 100 bonus partners


The displayed information is valid from 17.5. - 24.11.2023
 
 


More information about the event area (Seminar & Event)
Check availability now
Show summer pricing table
Show winter pricing table
Price table Falkensteiner Hotel Schladming **** Superior
Price in EURO per person/night
2023
 
 
 
 
 
Code:
STSCFS1
Min: 21.5.–25.5., 29.5.–7.6., 11.6.–2.7., 8.7.–9.9. & 26.10.–23.11. 2 nights,
17.5.–20.5., 26.5.–28.5., 8.6.–10.6., 3.7.–7.7. & 10.9.–25.10. 3 nights
Meals
Occupancy
17.5.–20.5.
26.5.–28.5.
8.6.–10.6.
3.7.–7.7.
10.9.–25.10.
21.5.–25.5.
29.5.–7.6.
5.11.–23.11.
11.6.–2.7.
8.7.–2.9.
3.9.–9.9.
26.10.–4.11.
DU H
DBL SUP 
HB
2–2
149
129
134
179
154
DD H
DBL Deluxe
HB
2–3*
159
139
144
189
164
JS H
JunSuite
HB
2–4**
219
199
204
249
224
DY H
DBL SUP single use
HB
1–1
199
159
169
259
209
Reduction/price in case of 2 full-paying guests in the extra bed:
0–1 year 100%, 2–5 years EUR 30,–, 6–13 years EUR 60,–, 14–99 years EUR 90,–;
* max. 2 adults + 1 child up to 17 years, ** max. 2 adults + 2 children up to 17 years or 3 adults
Supplement:
weekend stay FRI–SAT from 11.6.–2.7. & 5.11.–23.11.: EUR 20,– per room/night
Payable on spot:
local tax (from 16 years) EUR 2,50 ppn
Price table Falkensteiner Hotel Schladming **** Superior
Price in EURO per person/night
2023/24
Code: STSCFS1
Min: 24.11.–25.12., 7.1.–20.1. & 25.1.–6.4. 2 nights,
21.1.–24.1. 3 nights, 2.1.–6.1. 5 nights,
26.12.–1.1. 7 nights
Meals
Occupancy
24.11.–7.12.
10.12.–21.12.
8.12.–9.12.
7.1.–11.1.
22.12.–25.12.
26.12.–6.1.
12.1.–20.1.
21.1.–24.1.
25.1.–9.3.
10.3.–6.4.
DU H
DBL SUP 
HB
2–2
159
199
249
294
267
304
249
159
DD H
DBL Deluxe
HB
2–3*
169
209
259
304
277
314
259
169
JS H
JunSuite
HB
2–4**
229
269
319
364
337
374
319
229
DY H
DBL SUP single use
HB
1–1
269
349
449
539
484
559
449
269
 
extra bed 6–14 years
HB
 
110
110
110
125
125
125
110
110
 
extra bed 15–99 years
HB
 
130
130
130
150
150
150
130
130
Reduction in case of 2 full-paying guests in the extra bed:
0–1 year EUR 25,–, 2–5 years EUR 90,–, 6–99 years see price chart;
* max. 2 adults + 1 child up to 17 years, ** max. 2 adults + 2 children bis 17 years or 3 adults
Supplement:
weekend stay FRI–SAT from 24.11.–7.12., 10.12.–21.12. & 10.3.–6.4.: EUR 10,– per room/night
Payable on spot:
local tax (from 16 years) EUR 2,50 ppn