Hotel GUT Trattlerhof & Chalets ****
★★★★
Hotel GUT Trattlerhof & Chalets ****
Gegendtalerweg 1, 9546 Bad Kleinkirchheim
474 ratings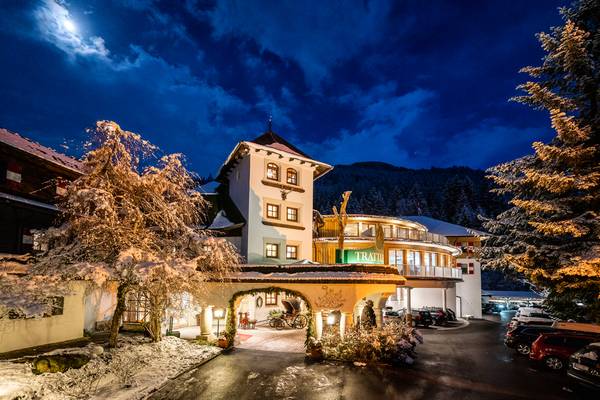 Highlights
traditional family business
1,000m² wellness area with indoor pool & saunas
Forest view relaxation pool in the outdoor area
only 150m to the lifts
awarded the Austrian Ecolabel
Facilities
tennis outdoor
private beach
sauna
restaurant
garage
parking spot
indoor pool
bicycle rental
eco label
Wi-Fi
pets welcome
Categories
Children
Spa
Skiing
Hiking
Bike
Holiday hotels
Fitness
Yoga
Location
Altitude: 1.087m
GPS coordinates: latitude 46.8108131/longitude 13.770288
Highway: A10/Villach oder Spittal/35km
Train station: Spittal/35km
Ski area: Bad Kleinkirchheim/150m

The traditionally run 4* family business is picturesquely situated on the edge of the forest. The center of Bad Kleinkirchheim is about 300m away.
Facilities
The Trattlerhof is characterized by the modern comfort of a 4* hotel combined with alpine charm and family hospitality. A traditionally designed hotel hall with reception, a rustic house bar, several cozy lounges with fireplaces, a café and a hotel restaurant with regional and seasonal delicacies await you in a family atmosphere. The in-house hut restaurant "Trattlers Einkehr", approx. 400m from the hotel, with hut lounge and sun terrace will spoil you with Carinthian specialties, dry-aged beef steaks and freshly caught trout and char from the hotel's own fish pond. Elevator and free parking spaces at the house. Wi-Fi is available free of charge throughout the hotel.
Payable on site: garage EUR 6,- per night. Dog: EUR 15,- per night plus EUR 35,- final cleaning if necessary. Local tax EUR 3,80 per person/night from 17 years.
Rooms
True to the motto "I feel GUT - excellent holidays on the estate", the 60 rooms, some furnished with larch wood from the region and brown saddle leather, are the homely expression of romantic life in the mountains. All rooms have a bathroom with bath or shower/toilet, hair dryer, telephone, flat screen TV, safe, minibar, desk and WiFi as well as a bathing bag with a bathrobe to borrow.
DC (2-2): Classic double room, approx. 24m², shower/toilet.
DK (2-3): Double room comfort, approx. 26m², shower/toilet, sofa bed and balcony.
DF (2-4): Family room, 32-36m², living area with pull-out couch.
SS (2-5): Suite, approx. 44m², partially separate living/sleeping area, balcony.
EC (1-1): Classic single room, approx. 18m², shower/toilet.
Meals
Pleasure half-board: Varied breakfast buffet until 11am with daily changing themes such as alpine breakfast, imperial breakfast or Bavarian breakfast, afternoon snack from 1pm-5pm - either in the hotel or in the "Trattlers Einkehr" hut restaurant, in the evening 5-course menu of choice including salad buffet. 1 x weekly gala dinner with welcome cocktail. Christmas menu and New Year's Eve dinner with live music, midnight surprise and hangover breakfast included.
All dishes are prepared using regional products from local suppliers and farmers, as well as herbs from the hotel's own garden.
Activities
Weekly entertainment program with e.g. guided winter hikes and dance evening.
For a fee: meditation, horse-drawn sleigh rides, torch-lit hikes with horses and ponies, e-car/Tesla rental.
Winter fun
Over 100 kilometers of perfectly groomed pistes, 24 modern lifts, 4 ski schools, a snow park, the "Franz Klammer" world cup descent and 23 rustic, cozy huts - that's winter sports in the Bad Kleinkirchheim Nockberge. Numerous boarding points guarantee driving pleasure without long waiting or transfer times. From family and pleasure skiing to demanding black slopes, every winter sports enthusiast decides according to their own ambitions. A special feature are the exclusive thermal and massage cubes directly on the slopes.
The Sonnwiesenbahn is only 150m from the hotel and can be reached on foot or with the free Ski-Thermen-Bus in a very short time. The ski bus stop is at the house. A ski depot is available free of charge at the Maibrunn valley station for the duration of your stay.
Away from the pistes, you can also enjoy your winter holiday cross-country skiing on the 8 km long trail with a connection to a further 45km of trails, a fast-paced toboggan ride, winter hiking on 60km of winter hiking trails, a guided snowshoe hike through the idyllic landscape or ice skating on the nearby Brennsee.
Additional Costs
Obligatory surcharges payable at the hotel: local tax (from 17 years) EUR 3,80 ppn.
Wellness
"Forest Wellness" bathing and sauna area on approx. 1,000m² with a large indoor pool (12x7m), year-round heated forest view relaxation pool (approx. 30°C) in the outdoor area, hot whirlpool, Finnish sauna, panorama sauna, pine bio-sauna , natural aroma steam bath, infrared cabin, aroma shower and floating loungers, panoramic fitness room, romantic relaxation room with cuddly bunks and wellness bar with juices.
For a fee: massages, treatments with natural cosmetics.
Children
Trattlers Sonnenreich Kinderland on 400m² with indoor and outdoor fun, separate children's menus for children up to 11 years.
For a fee: Winter pony farm for children up to 6 years.
Extras
10% early booking bonus from 7.12.-22.12. if you book 30 days prior to arrival
5% early booking bonus from 23.12.-25.12., 7.1.-2.2. & 3.3.-1.4. if you book 30 days prior to arrival
10% reduction from 7 nights from 7.12.-25.12. & 7.1.-1.4.
Ski opening from 7.12.-23.12.: 3-day ski pass for the price of the 2-day ski pass or 4-day ski pass for the price of the 3-day ski pass
Parent Special from 6.1.-8.3.: if an adult buys a 6-day ski pass, a child up to 11 years of age receives a children's ski pass for EUR 6, or from 7-12 days for EUR 12, or from 13 days for EUR 18,-
Ski & Spa March Special from 9.3.-1.4.: 30% discount from the purchase of a 3-day ski pass & 1x entry to the thermal baths included
Ski-Wellness-Weeks from 6.1.-2.2. & 2.3.-8.3.: 1 x thermal bath entry (4-hour ticket, exclusive sauna world) in the Römerbad thermal bath included with the purchase of a 3-day ski pass or 2 x thermal bath entry included with the purchase of a 4-day ski pass or 3 x admission to the thermal baths included with the purchase of a 6-day ski pass
Bad Kleinkirchheim Sunshine Card included with a varied activity program and attractive discounts at bonus partners


MODIFIED CANCELLATION CONDITIONS: can be canceled free of charge up to 10 days before arrival!


The displayed information is valid from 7.12.2023 - 2.4.2024




More information about the event area (Seminar & Event)
Check availability now
Show summer pricing table
Show winter pricing table
Price table Hotel GUT Trattlerhof & Chalets ****
Price in EURO per person/night
2023
 
 
 
 
Code:
KABKTR1
Min: 12.5.–21.6., 25.6.–14.7. & 1.9.–11.11. 2 nights,
22.6.–24.6. 3 nights, 15.7.–31.8. 5 nights
Meals
Occupancy
12.5.–25.5.
22.9.–11.11.
26.5.–21.6.
25.6.–14.7.
22.6.–24.6.
15.7.–31.8.
1.9.–21.9.
DC H
DBL Klassik
HB
2–2
96
102
113
102
DK H
DBL Komfort
HB
2–3
121
127
138
127
DF H
FamDBL
HB
2–4
141
147
158
147
SS H
Suite
HB
2–5*
152
158
169
158
EC H
SGL Klassik
HB
1–1
106
116
128
116
Reduction/price in case of 2 full-paying guests in the extra bed:
0–1 year EUR 10,–, 2–5 years 75%, 6–14 years 50%, 15–99 years 20%;
* max. 2 adults + 3 children up to 14 years
Payable on spot:
local tax (from 17 years) EUR 3,80 ppn
Price table Hotel GUT Trattlerhof & Chalets ****
Price in EURO per person/night
2023/24
 
 
 
 
Code:
KABKTR1
Min: 7.12.–22.12., 7.1.–2.2. & 3.3.–1.4. 2 nights,
23.12.–25.12. 3 nights, 26.12.–6.1. & 3.2.–2.3. 5 nights 
Meals
Occupancy
7.12.–21.12.
7.1.–2.2.
22.12.–25.12.
3.2.–2.3.
26.12.–6.1.
3.3.–1.4.
DC H
DBL Klassik
HB
2–2
121
135
166
121
DK H
DBL Komfort
HB
2–3*
147
161
192
147
DF H
FamDBL
HB
2–4**
172
186
217
172
SS H
Suite
HB
2–5***
179
193
225
179
EC H
SGL Klassik
HB
1–1
131
147
177
131
Reduction in case of 2 full-paying guests in the extra bed.:
0–5 years 100%, 6–11 years 50%, 12–99 years 20% and 26.12.–6.1. & 3.2.–2.3.: 0–2 years 100%, 3–5 years 80%, 6–11 years 50%, 12–99 years 20%;
* max. 2 adults + 1 child up to 11 years, ** max. 3 adults + 1 children up to 11 years, ** max. 3 adults + 2 children up to 11 years
Supplement:
short stay from 7.12.–22.12. , 7.1.–2.2. & 3.3.–1.4. in case of arrival FRI + SAT & 2 nights: + 15%
Payable on spot:
local tax (from 17 years) EUR 3,80 ppn