Thermenwelt Hotel Pulverer *****
★★★★★
Thermenwelt Hotel Pulverer *****
Thermenstrasse 4, 9546 Bad Kleinkirchheim
384 ratings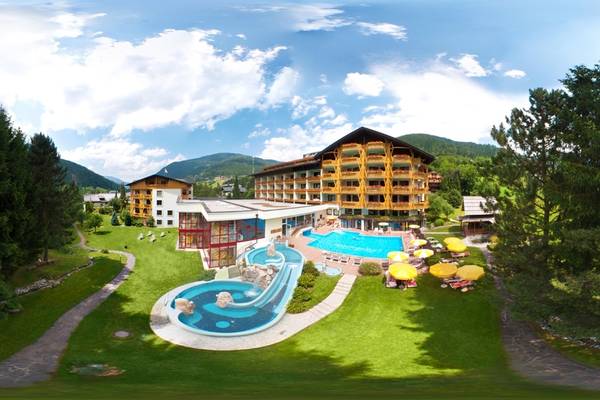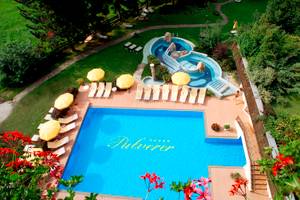 Highlights
traditional family business
Thermal spa & adventure sauna landscape on over 5,600m²
NEW: 1,000 m² swimming pond with heated infinity pool
Thermal water from the own spa
Restaurant with award-winning cuisine
Facilities
sauna
restaurant
parking spot
garden/park
indoor pool
outdoor pool
fitness
bicycle rental
seminar room
Wi-Fi
pets welcome
Categories
Spa
Health & Cure
Fitness
Skiing
Snowshoeing
Thermal bath
Yoga
Hiking
Bike
Golf
Gourmet
Wine
Holiday hotels
Location
Altitude: 1.087m
GPS coordinates: latitude: 46.813681/longitude: 13.779997
Highway: A10/Villach or Spittal/35km
Train station: Spittal/35km

In a sunny high valley on the south side of the Alps, the Thermenwelt Hotel Pulverer is quietly and yet very centrally located in Bad Kleinkirchheim, Austria's leading Alpine wellness resort.
Whether you hike and bike on 1.000 km of well-marked hiking trails and bike routes in the Carinthian Nockberge from spring to autumn, or explore the Nockberge ski region on skis and snowboards in winter - the family-friendly 5 * wellness hotel is the ideal accommodation for your summer - as well as winter holidays in Austria.
Facilities
Let yourself be won over by the ambience of this traditional family business, impressed by the quality and pampered by the service.
The restaurant, which has been awarded a toque by Gault&Millau, will spoil you with regional and international specialties, accompanied by a comprehensive range of wines from the in-house wine shop. Unique wooden architecture, a friendly reception area with reception, cozy lounges, a spacious bar with an open fireplace and a library invite you to linger and enjoy. Heated ski cellar or mountain bike depot with personal box to lock, lift, free parking spaces and electric charging station (chargeable). Wi-Fi is available free of charge throughout the hotel.
Payable locally: Carport: EUR 15,- per night. Dog: EUR 18,- to EUR 28,- per night. Local tax: EUR 2.70 per person/night from 16 years.
Rooms
In the 96 rooms, junior suites and suites, the sense of style as well as the cozy touch and charm of a personally managed hotel are clearly noticeable. All rooms have a comfortable ambience with an elegant bathroom with bathtub and toilet, toiletries, hairdryer, rental bathrobe, slippers and towel, telephone, satellite TV, minibar, safe, WiFi and balcony with a wonderful view.
JS (2-4): Junior Suite, 42m².
JP (2-3): Panorama Junior Suite, 57m², with a view of the outdoor thermal baths and the Nock mountains.
SK (2-4): Suite, 55-75m², spacious living room and quiet bedroom with double bed.
ES (1-1): Single room, 25-30m².
Meals
Half board: generous breakfast buffet with organic vitality corner until 11 a.m., afternoon snack, 5-course menu with a choice of starters buffet in the evening. 3 x weekly theme evenings. 5,600
Vegetarian and vegan dishes, diet and whole food dishes as well as special meals for those with food intolerances are possible by arrangement and by advance order.
The ingredients of the dishes mainly come from the in-house farm with a fallow deer enclosure, from our own fishing water and from farmers and producers in the region.
Activities
Fitness room with cardio and fitness equipment, daily activity and relaxation program including Nordic walking, weekly changing sports program with slope test and guided hikes, snowshoe hikes and trial cross-country skiing once a week, live music, late night spa every Saturday until 9 p.m. in the indoor thermal baths and sauna area.
Additional Costs
Obligatory surcharges payable at the hotel: local tax (from 16 years) EUR 2,70 per person/night.
Wellness
You will find pure relaxation in the unique thermal landscape on over 5,600m² with a thermal indoor pool (16x12m, 32°C), a thermal outdoor pool (28°C), thermal grottos with whirlpool, waterfalls and underwater massage beds and outdoor whirlpools and light-flooded lounges. The highlight is the new 1,000m² natural swimming pond with an integrated, year-round heated thermal infinity pool with a length of 25m in the middle of the 7,600m² garden with sun loungers and parasols.
The spacious adventure sauna area includes more than 10 saunas, including a Finnish sauna, pine sauna, herbal sauna, rock crystal and Tibetan salt stone tepidarium, aromatic and herbal grottoes, sea salt steam bath, infrared cabin and outdoor granary sauna.
Every second, three liters of fresh healing thermal water flow from the in-house spring into the thermal pools. The fresh thermal healing water is also suitable for pregnant women and babies.
Spa Treatments
A comprehensive range of high-quality cosmetic and massage treatments awaits you in the Vital Oasis. Let yourself be pampered with classic or exotic massages such as foot reflexology, lymphatic drainage, sports massage and relaxation massage, experience pampering for body and soul with selected Ayurveda treatments or enjoy weightlessness on the soft pack lounger. They are also experienced in the cosmetics department - from classic beauty treatments to facial and body treatments, manicures and pedicures to professional depilation, nothing is left to be desired. Exclusive products from Phytomer and the Phyris care line with an anti-aging active ingredient system are used. The Alpienne care products are based on natural extracts such as arnica and marigold. In addition to nourishing treatments for women, spa treatments for men and children are also possible.
Children
Games room and outdoor children's playground.
Extras
5% early bird bonus when booking by 31.10.*)
Stay 7, pay 6 nights from 7.1.-2.2.*)
Welcome drink upon arrival
Free ski bus shuttle in the local area
Reduced entry to the St. Kathrein thermal baths
Green fee reduction at the Bad Kleinkirchheim golf course in the summer months
Kärnten Card included from 17.5. – 1.11. with
Free entry to over 100 of the most beautiful Carinthian excursion destinations
Up to 50% discount with selected bonus partners

*) not combinable


The displayed information is valid from 17.5. - 10.11.2024
 
 


More information about the event area (Seminar & Event)
Check availability now
Show summer pricing table
Show winter pricing table
Price table Thermenwelt Hotel Pulverer *****
Price in EURO per person/night
2023
 
 
 
Code:
KABKPU1
Min:  26.5.–11.11. 4 nights
Meals
Occupancy
26.5.–22.7.
23.7.–19.8.
22.10.–1.11.
20.8.–21.10.
2.11.–11.11.
JS H
JunSuite
HB
2–4*
166
181
170
JP H
Panorama JunSuite 
HB
2–3**
181
196
185
SK H
Verwöhn Suite
HB
2–4***
186
198
190
ES H
Verwöhn SGL
HB
1–1
166
181
170
Reduction/price in case of 2 full-paying guests in the extra bed:
0–1 year %, 2–5 years 80%, 6–12 years 50%, 13–16 years 30%, 17–99 years 20%;
* max. 2 adults + 2 children up to 10 years, ** max. 2 adults + 1 child up to 16 years, *** max. 2 adults + 2 children up to 16 years
Supplement:
short stay 1–3 nights: EUR 10,– ppn
Discount:
overnight stay/breakfast: EUR 15,– ppn
Payable on spot:
local tax (from 17 years) EUR 2,60 ppn
Price table Thermenwelt Hotel Pulverer *****
Price in EURO per person/night
2023/24
 
 
 
 
 
Code:
KABKPU1
Min: 7.12.–22.12. & 25.2.–9.4. 4 nights,
7.1.–3.2. 5 nights, 23.12.–6.1. 7 nights,
4.2.–24.2. 7 nights/ arrival SAT 
Meals
Occupancy
7.12.–22.12.
7.1.–2.2.
25.2.–31.3.
1–3 nights
7.12.–22.12.
7.1.–2.2.
25.2.–31.3.
from 4 nights
23.12.–6.1.
3.2.–24.2.
1–3 nights
3.2.–24.2.
from 4 nights
JS H
JunSuite 
HB
2–4*
205
194
257
238
226
JP H
Panorama JunSuite 
HB
2–3**
222
211
277
256
244
SK H
Verwöhn-Suite 
HB
2–4***
228
217
284
262
250
ES H
SGL 
HB
1–1
205
194
257
238
226
Reduction in case of 2 full-paying guests in the extra bed.:
0–1 year 100%, 2–5 years 80%, 6–12 years 50%, 13–16 years 30%, 17–99 years 20%; * max. 2 adults + 2 children up to 10 years,
** max. 2 adults + 1 child up to 16 years, *** max. 2 adults + 2 children up to 16 years 
Discount:
overnight stay/breakfast: EUR 20,– ppn
Payable on spot:
local tax (from 17 years) EUR 2,60 ppn