Dom Museum Wien
1,000 years of art history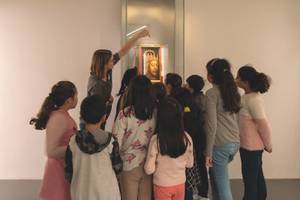 Description
The Dom Museum Wien is Austria's most important museum for historical sacred art and also shows key works of modernism, the post-war avant-garde and contemporary
connoisseur art. The highlight is the oldest portrait of the West, showing the Habsburg Rudolf IV (14th century). Located in the heart of Vienna right next to St. Stephen's Cathedral, the museum also offers changing exhibitions on social, intercultural and interreligious issues.
In winter 2022/23, "Mahlzeit" can be seen: a show that deals with the community-forming aspects of the meal through the epochs and in a wide variety of media - sculpture, graphics, painting, photography and video art: in families, on official occasions, in the political and religious frameworks of different cultural contexts.
In addition to the exhibition catalogues, you will find a selection of books and exclusive design objects in the museum shop.
Stephansplatz 6, 1010 Vienna
www.dommuseum.at
WED–SUN from 10am–6pm, THU until 8pm
Closed on holidays
Price per person:
EUR 8,–
children 6–18 years:
EUR 3,–Code: WIENXDM EIN